457 Guidebook
A Look Inside the Essential Guide You Need to Run Your 457 Plan
One of the most important roles of a 457 plan sponsor is to maintain the tax-favored status of the plan for participants and beneficiaries. To help you with that task, we give our plan sponsors the 457 Guidebook: Answers to Your Questions About 457 Plans.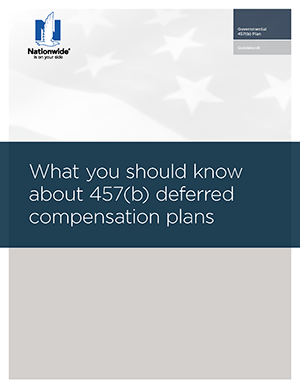 It is a reference guide designed to help you understand the rules and requirements that apply to eligible governmental deferred compensation plans under Internal Revenue Code §457(b).
To get a copy of the 457 Guidebook, contact us by calling 1-877-677-3678.
Table of Contents
Plan Fundamentals: Provides a basic overview of 457 plan types, plan documents and eligibility requirements (employers and participants), as well as the general governance structure. 
Contributions: Gives specifics on the maximum amounts employees and employers can contribute based on federal laws and regulations. 
Distributions: Discusses the rules and provisions of when participants and beneficiaries may take or are required to take distributions.
Rollovers: Defines the different types of rollovers, what plans or IRAs are eligible, as well as the effects of a rollover on your plan.
Other Plan Provisions: Explains additional provisions such as participant loans, defined benefit service credit purchases, designated Roth contributions, in-plan Roth rollovers (conversions), deemed IRAs, plan-to-plan transfers and plan termination.
Funding: Discusses the rules that apply to contributions that must be held in tax-exempt 457(g) trusts, custodial accounts or annuities for the exclusive benefit of participants and beneficiaries.
Tax Compliance: Outlines the required and optional written terms of the plan that relate to the tax-deferred status.
Additional Information: Clarifies the federal rules and guidance that govern the governmental 457(b) plans.
While this guide may be used as a basic reference, employers, plan sponsors and administrators should always consult their own legal counsel and carefully review plan documents when designing, amending and administering their 457 plans.
NRW-3856AO