NACo scholarship winners share thoughts on financial freedom and the importance of saving for retirement
For the 15th year, high school seniors participating in the NACo/Nationwide scholarship essay contest shared their unique perspectives on saving for retirement. Graduating seniors became eligible by having a parent or grandparent contributing to the NACo 457 Deferred Compensation Program. They were asked to write a short essay on the importance of saving for retirement now. The winning entries were submitted by:
Alexander Lyberg, Collier County, Naples, Fla.
Elizabeth Williams, Ingham County, DeWitt, Mich.
Trinity Critelli, Oneida County, Frankfort, N.Y.
Hector De Leon, Riverside County, Moreno Valley, Calif.
In their essays, each student communicated the importance of preparing financially for retirement in response to the following prompt:
A surprising percentage of Americans report that they would not be able to come up with $1,000 tomorrow if needed. Why do you suppose so many Americans live paycheck to paycheck, and what can you do to be successful in your financial well-being now and in the future?
Each winning senior received a $2,500 college scholarship from Nationwide and the National Association of Counties.
Alexander Lyberg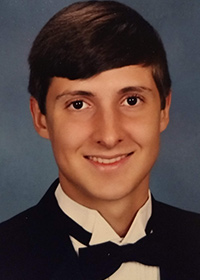 In addition to having an active high school career with cross country, tennis, marching band, National Honor Society and his church youth group, Alexander also completed an internship between his junior and senior year and maintained a part-time job. The experience of working while in high school allowed him to understand the value of saving and making good financial decisions.
"I had options for both a private and public college education but decided to attend a state university. I did so because my parents invested in a prepaid college plan, which will allow me to finish my studies nearly debt-free. Once I have secured a job, I plan to take advantage of employer deferred compensation programs and put money away early in my career, even if it is a small amount. The effect of starting early gives me the best possible chance for financial security far into the future."
After graduating from Golden Gate High School in Florida, Alexander will attend the University of Florida to study Computer Science. Alexander's mother, Amy, is employed by Collier County Government/BCC.
Elizabeth Williams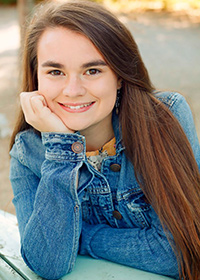 When she wasn't marching with the band, performing in concert choir, being captain of the soccer team or participating in National Honor Society, Elizabeth spent her time reading "The Automatic Millionaire" and taking a Dave Ramsey financial literacy class. From these sources, she learned the value of living debt-free and the importance of compounding.
"To be successful in my financial well-being, I plan to do a wide variety of things. First, I plan to attend college with as little student loan debt as possible. I plan to work all summer and to get a job on campus so that I can work to do this. In order to build wealth and invest in my future, I need to eliminate all sources of debt first. I learned the importance of making your money work for you and that investing earlier is the key to building a good future financially."
After graduating from Olivet High School in Michigan, Elizabeth will attend Alma College as a Pre-Medicine student with the intention of continuing her education and becoming an anesthesiologist. Her mother, Amy, is an employee of the Ingham County Health Department.
Trinity Critelli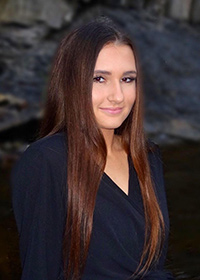 A natural athlete from a young age, Trinity has been active in basketball, indoor track, dancing and travel softball during her high school career, as well as being focused on maintaining a 4.0 GPA and volunteering countless hours in her community. In addition to being physically fit, she also sees the importance of being financially fit.
"Living paycheck to paycheck with monthly bills, such as a car payment and student loans, has become the new normal. As an aspiring future Financial Planner and Advisor, I am determined to change this unfortunate reality for many Americans. Not possessing the correct knowledge early on is a major reason why many Americans are not financially fit."
After graduating from Frankfort-Schuyler Central High School in New York, Trinity plans to attend Mohawk Valley Community College where she will continue to play softball and major in Business Administration. Her father, Craig, is employed at Mohawk Valley Community College.
Hector De Leon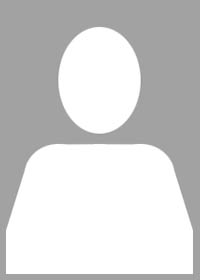 An avid hiker who loves spending time outside with his family, Hector understands that education is the gateway to many opportunities. From his mother's determination to provide a better life for her family by earning her college degree, he learned the value of hard work. He also picked up along the way that "independence and stability stem from economic responsibility."
"My home life developed my philosophy of spending on important things first, and now in school I am learning even more. In class I have learned to save money when things are going well in order to be ready for tougher times. This is why I will ensure that as an adult, I will have adequate savings for emergencies."
After graduating from Rancho Verde High School in California, Hector will attend UCLA and pursue a degree in Political Science. He plans to become an environmental and pro bono immigration lawyer. His mother, Maria, is employed by Riverside University Health System.
Scholarship honors decades of partnership
Nationwide and NACo are committed to helping participants plan for retirement as well as for their family's future. Nationwide sponsors the Nationwide/NACo scholarship to recognize its nearly four-decade partnership with NACo and its member counties.
For additional information about the NACo Deferred Compensation Program, please contact Amy Humphrey at humpha1@nationwide.com or 860-480-1211.
Nationwide Retirement Solutions (Nationwide) partners with the National Association of Counties (NACo) to provide counties and their employees with a competitive deferred compensation program. As part of this partnership, Nationwide pays a fee to NACo in exchange for NACo's exclusive endorsement, marketing support and program oversight of Nationwide products made available under the program. For more information, including fees paid, Nationwide encourages you to visit NRSforu.com.

NACo PEB LLC does not provide advice or make recommendations regarding the purchase or sale of securities or the products and services of Nationwide affiliates. NACo PEB LLC acts as a third-party marketer, and does not hold or maintain funds or securities. NACo PEB LLC is NOT an affiliate of Nationwide Investment Services Corporation or Nationwide.

Nationwide Retirement Specialists are registered representatives of Nationwide Investment Services Corporation, member FINRA, Columbus, Ohio. Nationwide representatives cannot offer investment, tax or legal advice. Consult your own counsel before making retirement plan decisions.

Nationwide, the Nationwide N and Eagle and Nationwide is on your side are service marks of Nationwide Mutual Insurance Company. © 2019 Nationwide
NRM-10162AO-NX.7